San Marcos Pool Builders
Award-winning San Marcos Pool builders constructing gunite pools throughout Central Texas!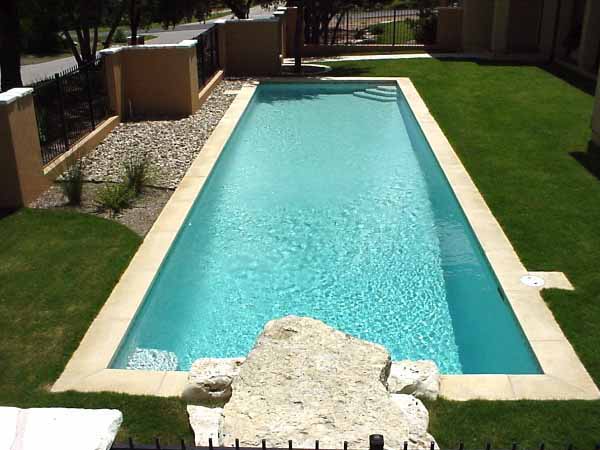 Whether you live in San Marcos, or the surrounding areas, you can rest assured that our pool building company, Tri-County Pools can assist you with the construction of your dream pool.
It doesn't matter if you have a commercial property or residential property; our San Marcos swimming pool technicians have over 100 years combined experience and have built a wide variety of gunite pools throughout Central Texas. They can help you choose the perfect style, shape and size of pool that matches your personality and lifestyle.
Tri-County Pools are a different type of San Marcos pool builders
As a dedicated swimming pool construction company, we only want what is best for our clients. This is why we specialize in constructing gunite pools. Gunite pools are the most versatile and durable type of pools to build. When you have a gunite pool constructed, the possibilities are endless. You can design your pool to come in a wide variety of shapes and sizes. Not only that, but gunite pools are the most durable type. This means that you will be able to enjoy your San Marcos swimming pool for years to come!
Our pool builders do more than construct gunite pools!
When it comes to building a pool, you have to also make sure it is well-maintained afterwards. This is why we offer other services beyond just pool construction.  If you want to keep your pool in excellent condition for years to come, we also offer the following:
Residential & commercial swimming pools – design & construction
Pool accessories, equipment and water features
Swimming pool and spa combinations – design & construction
Rehabilitation of gunite pools
Maintenance and repairs of swimming pools
San Marcos pool builders that believe quality customer service is the key to a wonderful pool building experience!
When it comes to building a pool, you want a pool company that you can communicate with.  At our pool building company, we make sure that we provide all of our clients with the utmost respect.  We are committed to providing you with an excellent pool building experience.  From the moment you call our office to request a quote, to the moment we are on your property building a pool, we will provide you with effective communication, quality customer service, and attention to detail.
Contact our pool builders today and request a quote!
When you make the decision to build a swimming pool, you don't have to do it alone. You can get the help and support of skilled and experienced pool builders to assist you with ideas, concepts, and planning. Whether you are in the market for a new pool, upgrading an existing pool, or simply want to find out more about the pool building process, our San Marcos swimming pool professionals can help.
Give us a call at 512-990-9252 and discover how we can create a plan to start building your dream pool today – the Tri-County Pools way!