Round Rock Pool Builders
Round Rock pool builders creating a fun pool building experience for residents and businesses throughout Central Texas
When you make the decision to build a pool, you many have a lot of questions and concerns. If this is your first time building a pool, you may not know where to start or what pool company to choose. This is why it's very important for you to research the swimming pool construction company to accommodate your needs.
Our pool builders have decades of experience constructing gunite pools throughout Central Texas!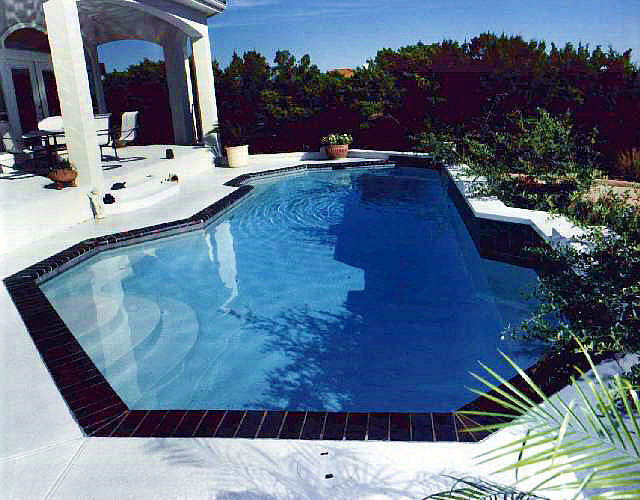 With a wide variety of pool companies in town, you may have a hard time deciding on which pool company is right for you. While we can't speak for every pool builder in Texas, we certainly can speak for ourselves. We are an award-winning company with over 100 years combined experience designing, constructing and maintaining pools throughout Central Texas.  When you choose to have our pool building company construct your pool, you can rest assured that we will provide you with all the necessary information you need to know to make sure you have a pleasant pool building experience.
Let our swimming pool staff design your Round Rock pool today!
When you call our office and request a proposal, we will help you decide on a wide variety of design options to fit your lifestyle. Once we get a general idea of what you are looking for, we will start the design process and work out a plan to complete the job in a time efficient manner without sacrificing quality. Give our Round Rock swimming pool construction company a call today and request a proposal for us to start building your dream pool today!
Our Round Rock pool builders can virtually build any style pool you would like!
Our Round rock swimming pool staff are dedicated to building a perfect pool, and really enjoy their job. We truly want to make sure that you are as happy with the pool building process as possible. Whether you want something simple & serene, or lavish and over-the-top, you can feel confident that no pool building job is too big or unique for our pool company, Tri-County Pools.
Let our pool builders create a wonderful pool building experience for you today!
When you hire a Round Rock swimming pool construction company, you want to make sure that your job is getting done right and on time. At Tri-County Pools, we make sure that we communicate with you every step of the way. Whether you have a question or a problem needs to be address, you can be assured that we will respond to all of your questions and concerns in a timely manner.  Our Round Rock pool builders are dedicated to building you a quality pool that will last for years to come.
Whether this is your first time building a pool, or you need maintenance or rehabilitation of your gunite pool, give our Round Rock pool builders a call to discuss how we can make all of your pool building dreams a reality.