Liberty Hill Pool Builders
Liberty Hill pool builders making gunite pool construction a seamless process
Whether this is your first time having a pool constructed or you need to do some upgrades to your existing pool, you can rest assured that our pool builders, Tri-County Pools can provide you with the skills and experience to build you a high quality, custom pool in Liberty Hill.
Why choose our Liberty Hill pool builders to construct your gunite pool?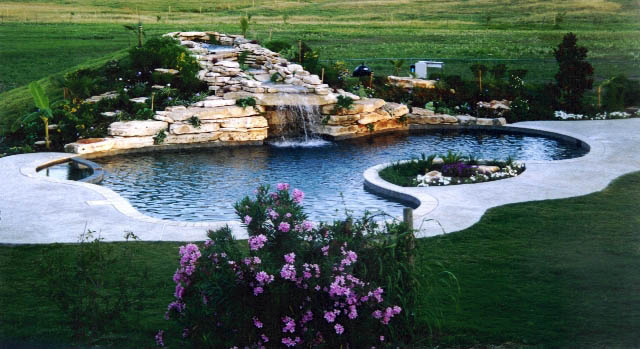 When it comes to building a pool, you want one that matches your personality and your lifestyle. This is why our pool building company specializes in building gunite pools. Gunite is known for its durability and versatility. Whether you want an exotic looking pool or a pool in various shapes, you can be certain that our Liberty Hill swimming pool builders can build a pool exactly to your liking.
As award-winning pool builders we are committed to excellence. We want you to have one of the most pleasurable swimming pool building experiences possible. The experience starts when you initially call our office. If you are having trouble deciding exactly what you want in a pool, let our pool designers help you. Our creative Liberty Hill swimming pool professionals can assist you with pool design concepts and ideas for your perfect dream pool.
When you choose us as your pool construction company, you can be assured that we will dedicate our time to making sure you receive a wonderful building experience. We will provide you with open communication, respond to all your answers in a timely manner, and keep you up to date with the building process.  Contact us or give us a call today to find out more about how we can build your dream pool today!
Our builders offer a wide range of different services!
When you make the decision to have a pool built in your backyard or commercial establishment, you have to remember that you will need to perform regular routine maintenance. This is why we can also offer you additional services for after the pool is built. This is to help you have the best overall pool building and maintenance experiences possible. Here are a few services that we have available:
Residential & commercial pools – design & construction
Pool accessories, equipment and water features
Pool and Spa combinations – design & construction
Rehabilitation and repairs of gunite pools
Routine maintenance of pools
Contact our pool builders today and request a FREE quote!
When you have the right Liberty Hill swimming pool company, building a pool can be a fun and exciting experience. Whether you are looking to entertain friends or looking to relax, you can be assured that our swimming technicians can make your vision come to life!
Give our Liberty hills swimming pool specialist a call today at 512-990-5252 and discover how our swimming pool specialists can provide you with a wonderful building experience!