Leander Pool Builders
Leander pool builders with decades of experience building gunite pools!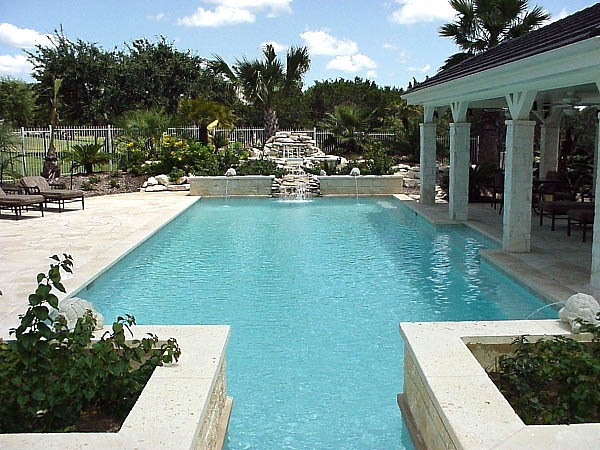 Whether you are a homeowner or a commercial property owner, building a pool can be a huge investment. However, there are a lot of details that go into constructing the perfect pool.  You have to decide what type of pool you want, the time frame you want it completed within, and the budget you are willing to spend. But most importantly, you have to decide on the Leander pool builders who are going to get the job done.
At our pool building company, Tri-County Pools, we specialize in building quality, custom gunite swimming pools. We can provide you with the necessary skills, information and expertise to help you design the perfect pool for you and/or your clients.  Whether you want a lavish and over the top pool, or a pool that reflects your personality, we can help!
Why choose Leander pool builders – Tri-County Pools?
While there are many swimming pool companies serving Leander you can choose from, we are award-winning pool builders that have the skills, experience and passion to build you your perfect dream pool in Leander.  We are dedicated to making sure you receive the most pleasant pool building experience possible. This is why we provide open communication with you through every step of your pool building process. You will never be caught by surprise. Whether you have a question about pool concepts, our building time frame, or the way we work, we will gladly address all of your questions, comments, and concerns in a timely manner.
You need a swimming pool company in Leander that knows what they are doing!
We have over 100 years combined experience constructing high quality gunite swimming pools throughout Central Texas.  Not only are we skilled and experienced, but we will actually take our time to listen to what you really want. We understand that this is your pool and you want it built a certain way. We will work with you to discuss possible ideas and design concepts. Once we agree on a design that you are comfortable with, we will provide you with an honest quote. We will tell you exactly what you need and what you don't. There will be no hidden surprises.
We do more than just build gunite swimming pools!
While building gunite swimming pools is our specialty, we understand how important it is to maintain a swimming pool. This is why we offer additional services to ensure that your pool is in excellent condition all year.  Some of the other swimming pool services we can assist you with include:
Residential & commercial swimming pools
Pool accessories, equipment and water features
Swimming pool and spa combinations
Rehabilitation of gunite pools
Maintenance and repairs of swimming pools
Speak with one of our swimming pool sales experts about your dream pool today!
Whether you are thinking about having a pool built or you are firm on your decision, our swimming pool construction experts for Leander are waiting to help you.
Give us a call at 512-990-9252 to discuss your pool ideas, designs and concepts with us today!