Giddings Pool Builders
Skilled and Experienced Giddings swimming pool builders helping you create your dream pool
When you make the decision to build a pool, it can be quite overwhelming. Not only do you have to worry about pool design, but you have to plan for maintenance, repairs, and rehabilitation if necessary. That is  why it's important to map out all the details of what you want in your pool. This is where our Giddings pool builders company, Tri-County pools come in. Our Giddings pool builders have over 100 years combined experience constructing, installing and maintaining pools and providing gunite swimming pools and rehabilitations for businesses and residents in Giddings and throughout Central Texas.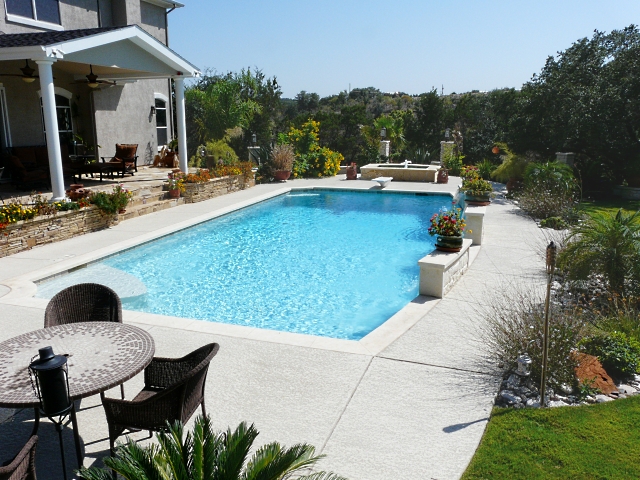 If you dream of the perfect pool, we can create it!  Whether you want something simple and clean or luxurious and overflowing, you can trust that our Giddings swimming pool builders company will make your vision of the perfect pool come to life.  From start to finish, you will have an effortless pool building experience.  At Tri-County pools, no pool request is too big or too unusual for us.  Whether you are looking to add more value to your home or enhance your commercial image, we have you covered. We also have a highly trained and fully equipped staff of professional technicians that can handle all maintenance, repairs, and rehabilitation of gunite swimming pools.
Work with a swimming pool company you can trust!
Whether you need a brand new pool, are  looking for design options, or need construction and maintenance, you can feel confident knowing you are working with skilled Giddings swimming pool builders that have decades of experience designing, constructing and maintaining pools in Giddings and the surrounding areas in central Texas.
When it comes to building a pool that you and your family will enjoy for many years, it's imperative that you have the help of experienced and qualified swimming pool technicians to help create the perfect pool that you and your family will enjoy for a lifetime.  It doesn't matter if you are looking for a special gunite pool, want a fun pool, or a resort style pool and spa, our swimming pool builders, Tri-County pools can accommodate your every need.
We are more than Giddings Pool builders!
When it comes to building a pool, you always want to have accents and accessories that complement the design, style and feel of your pool.  Consequently we also offer a wide variety of services that include:
Giddings swimming pool builders dedicated to making sure you have the perfect pool of your dreams!
Our Austin pool building company, Tri-County pools is dedicated to making sure you have a wonderful pool building experience. From conception and design to construction, we will work with you every step of the way to make sure your dream pool becomes a reality. We are an award-winning pool building company that always focuses on the wants and needs of our clients. We are committed to making sure we provide you with excellent customer service, quality design, and brilliant craftsmanship.
Call us today at (512) 990-9252 to schedule a visit, request a proposal or simply ask for references from our many satisfied clients in Giddings and all throughout Central Texas.